Bury 1
Wycombe Wanderers 2
Saturday 11th September 1993
Football League Division Three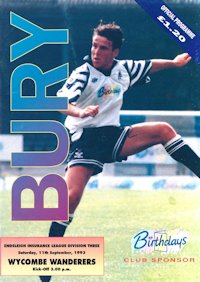 Wanderers continued their impressive start to the first ever Football League campaign with a 2-1 victory over Bury at Gigg Lane. Andy Kerr gave Wanderers the lead after 13 minutes with a close range effort from Matt Crossley's knock down at the far post.
But it was introduction of new signing Tony Hemmings that sparked added life into Wycombe and led to Tim Langford's goal just after the hour mark that ultimately sealed the points. Striker Hemmings signed for Wanderers from Northwich Victoria during the week for £25,000 and added to his 26th birthday celebrations a few days later by laying on the ball for Langford to strike home a delight the Wycombe contingent holed up in the main stand at Gigg Lane.
The victory took Wanderers to 4th place in the table with 12 points from their opening 6 games and still unbeaten ahead of the visit of old rivals Colchester United to Adams Park the following Saturday (18th September 1993).
Other news during the week leading up to game at Bury saw Glyn Creaser return from his long term injury by appearing for the reserves in a Capital League game at Woking. Mark West also appeared in that game after signing Football League terms for the Wanderers. Former England defender Kenny Samson was a surprise face in the line-up too against Woking after training with the Club during the week.

Wycombe: Hyde, Cousins, Titterton (sub 59 Hemmings), Kerr, Crossley, Ryan, Carroll, Langford (sub 77 Evans), Hayrettin, Scott, Guppy - subs unused:Moussaddik (GK).
Scorers: Kerr 13, Langford 63
Bookings: none

Bury: Bracey, Anderson, Stanislaus, Daws, Knill, Jackson, Rigby, Kearney, Blissett, Carter, Stevens - subs unused:Mauge, Powell, Collins (GK)
Scorers: Blissett 75
Bookings: Kearney 26 (dissent)
Referee: Mr Terry Heilbron
Attendance: 2,559
What the papers said:
Bucks Free Press - Nick Goodman reporting from Gigg Lane:
Wycombe were hanging on by their fingertips as Bury launched a determin ed late assault for an equaliser on Saturday. It was gripping stuff as wanderers' defence, forced to reshuffle following the departure of the injured David Titterton, held on for three points.
Blues' defence was never totally convincing, though Andy Kerr had popped up at the other end to give Wycombe a 13th minute lead following Matt Crossley's knockdown from Steve Guppy's cross.
"I hope he can do a wee bit better in our own penalty box," said manager Martin O'Neill of Kerr. "We have had problems this season conceding goals."
Titterton's untimely injury led to Blues using three different players at left back - Steve Guppy; Keith Ryan and Crossley - hardly the basis for solidity.
Bury, sensing an equaliser, pulled a goal back on 75 minutes. Alan Knill pulled the ball back and Luther Blissett cracked home. Blues further tried to bolster their rearguard with the combative Terry Evans, but the pressure was unrelenting. and Bury's Tony Rigby went close with an injury time free kick.
Wycombe's penchant for conceding goals at vital times was also evident at Hereford, though this time the resourcefulness of both keepers helped to keep the score down. Wanderers' Paul Hyde was particularly assured: spectacularly keeping out a Nick Daws rocket and, later, improvising with his head as Kerr played the ball back.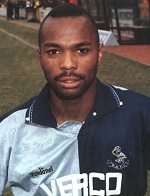 What was most encouraging for O'Neill was Tony Hemmings' contribution when he made his League debut for Wycombe as a 59th minute substitute. He wrapped Bury up in knots with his close control, pace, and strength, much to the delight of the large Wycombe contingent.
It was his tenacity inside the Bury box and perfect pass which set up the unmarked Tim Langford, returning from a stomach virus, for a crisply taken goal- Blues' second.
O'Neill, pleased with Blues' haul of 12 points from their first six matches, added: "It's not just that but the manner and way we play. We are having a go at teams and scoring quite a number of goals away from home - in four games we have scored nine goals - so we are attacking."
Despite Blues setting up a number of chances in a scrappy first half their only reward was a slender 1-0 lead at the interval. Wycombe struggled to play the ball on the ground as passes went astray and became increasingly disjointed. It needed someone to put his foot on the ball and begin some of the measured buildups the game cried outfor. But with Blues fourth in the table, and still unbeaten, it all ended happily enough.