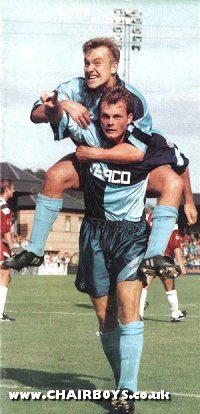 Wycombe Wanderers 1
Gillingham 1
Saturday 4th September 1993
Football League Division Three
A 6,000 plus crowd gathered at Adams Park on Saturday 6th September 1993 as Wanderers continued their first season in the Football League against struggling Gillingham. The visitors were without a win in their opening four League games of the season and had not won on the road for close the 18 months (March 1992). Their trip to Adams Park had not gone without problems too, as heavy traffic on the M25 meant that only a Police escort had seen them arrive in time - one of their local players, Neil Smillie, travelled to the game directly from his home in Reading and arrived before all his team mates and had to register the line-up with the referee and nominate himself as Captain for the evening.
As for Wycombe, their performance on the pitch wasn't pretty and they were grateful to take a second half lead through a Keith Scott penalty before a late goal from 19 year Nick Forster earned the Kent side a point. After the game Martin O'Neill was not complimentary of his side, saying, "We were absolutely hopeless. That's our first poor performance and I've still no idea why." Describing Gillingham's late equaliser, he added, "That was not even Diadora (Isthmian League) defending."

Wycombe: Hyde. Cousins, Titterton, Kerr, Crossley, Ryan, Carroll, Hutchinson, Hayrettin, Scott, Guppy - subs unused: Norman, Evans, Moussaddik (GK)
Scorers: Scott 62 (pen)
Bookings: Cousins 60 (foul)

Gillingham: Banks, Dunne, Palmer, Clarke, Green, Carpenter, Micklewhite, Forster, Baker (sub 78 Crane), Smith, Smillie - subs unused: Trott. Barratt (GK)
Scorers: Forster 87
Bookings: Smith 39 (foul), Dunne 54 (foul)
Referee: Mr D Frampton
Attendance: 6,226
What the papers said:
Bucks Free Press - Claire Nash reporting from Adams Park: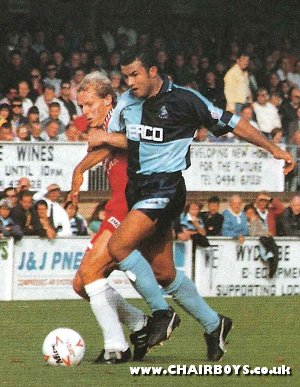 Martin O'Neill apologised to the fans, who swelled Saturday's attendance to 6,226 , for his side's performance which almost beat Gillingham at Adams Park. Blues were leading with three minutes to go from a Keith Scott penalty. But teenage marksman Nick Forster intervened with a majestic piece of finishing to salvage a point for the visitors.
Until then Wycombe seemed to have secured a victory which had appeared highly unlikely after a first half where they barely got a sniff of goal. O'Neill was less generous even though his side had preserved their unbeaten record, with the television cameras of BBC2's Standing Room Only looking on. "We were very poor. When we did get the ball, we did not do anything with it. It is sad that is how we played for the thousands who turned up. There were a floating 1,000 supporters here. It must have been disappointing for them." Wycombe suffered from a lack of firepower, with Tim Langford's absence through illness sorely stretching O'Neill's selection options. Langford had the runs, though he should be fit for the match at Bury this corning Saturday.
Dave Carroll was placed up front with Scott, but was switched to his usual position on the right wing later in the half, swopping with Simon Hutchinson. He was then moved back to his original position in the second half. "I fiddled because we could not get it right," explained O'Neill.
Blues were put under pressure by Gillingham from the off. The visitors arrived just half an hour before kick-off after getting stuck in an M25 snarl-up. But Mike Flanagan's men suffered no ill -effects and forced Blues into errors which would surely have made the watching Sir Walter Winterbottom, England manager from 1946 to 1962, and Bill Nicholson, Tottenham Hotspur's club president blanch.
Gills' Paul Baker clunked Wycombe left back David Titterton, who had a good game, in a first-minute challenge which signalled their de sire to get stuck in. Neil Smillie, who played for Brighton in the 1982 FA Cup Final against Manchester United, hinted at his former glory when his turn and shot beat Andy Kerr. Keeper Paul Hyde made a rare fumble, when he failed to tidy up the early strike after taking his eye off the ball.
The visitors' man-of-the match Forster continued to lurk dangerously, although it was Baker who had the best chances of the half. Hyde impressively finger-tipped the hefty forward's 23rd-minute shot from the edge of the box over the crossbar. Baker followed up with a thundering long-range shot from the resulting corner, which hit the underside of the bar before rebounding away.
Wycombe meanwhile failed to thread a way through. Hakan Hayrettin had a battle-royal with former Queen's Park Rangers' favourite Gary Micklewhite in midfield, while Steve Guppy endeavoured to run rings round Gillingham's Richard Carpenter, but his enticing crosses went unrewarded. Scott continued a lone battle up front in the second half. But it was Carroll's persistence which presented the striker with his fifth goal of the season. Paul Clarke was penalised for getting an intimate grip on Carroll's shirt in the 60th minute. Scott. made no mistake in burying his second pencJty in as many matches.
Wanderers proceeded to have their best patch of the match. A buoyed Carroll sped 30 yards down the left flank and struck a shot which appeared goalbound until Gillingham's young keeper Steve Banks blocked it to concede a corner. But Forster always looked likely to cause problems. Matt Crossley just denied his progress from one neat turn in the 78th minute And just as news filtered through that Hyde would get Wycombe's man-of-the-match award, 19-year old Forster left Wanderers' defence and keeper trailing in his wake when he scored from an acute angle at the far post, after a dazzling 30-yard run on the right flank.