Hereford United 3
Wycombe Wanderers 4
Tuesday 31st August 1993
Football League Division Three
Wanderers travelled to Hereford on the Tuesday evening after the August Bank Holiday and many of the 500 plus Wycombe support were delayed in traffic. Those that made the game saw a highly entertaining encounter which marked the debut for Terry Evans. The former Brentford player was named on the bench but was thrown into the afray on 23 minutes after Matt Crossley was injured. By then the score was already 1-1 and Evans start in a Wycombe shirt was less than spectacular as he saw the home side take a 2-1 lead with 30 minutes on the clock. However, he battled back to set up Wycombe's equaliser before the break before a topsy turvey second half culminated in Wanderers grabbing a late winner through Andy Kerr.
Speaking after the game, Martin O'Neill said, "It was great result. We have played three games away from home and taken five points - and we are still unbeaten." He added, "We looked like we had never seen each other. Matt Crossley going off did upset us. Big Terry Evans tried to settle in quickly, but he, like Andy Kerr, did better in the opponents' penalty box than ours".

Wycombe: Hyde, Cousins, Titterton, Kerr, Crossley (sub 23 Evans), Ryan. Carroll, Langford, Hayrettin (sub 67 Hutchinson), Scott, Guppy - sub unused: Moussaddik (GK)
Scorers: Scott 9 (pen), 52, Kerr 42, 86
Bookings: Evans 29 (foul), Titterton 60 (foul)

Hereford: Judge, Clark (sub 45 Eversham), Anderson, Davies, Abraham, Morris, Hall, Fry, Pickard, Pike, Nicholson - subs unused: Clements, Thomas (GK)
Scorers: Pike 23, 30, Hall 59
Bookings:Anderson - sent off 54 (serious foul play)
Referee: Mr P Vanes
Attendance: 2,847
What the papers said:
Bucks Free Press - Nick Goodman reporting from Edgar Street:
Keith Scott and Andy Kerr grabbed a brace apiece as Blues marched to their first Division Three away win of the season in this highly-charged, seven-goal drama.
Edgar Street has a history of staging notable cup deeds, but on Tuesday a 2,847 crowd marvelled at the excitement generated by this pulsating League match. Hereford, who had Colin Anderson sent off after 54 minutes for a dreadful challenge on Jason Cousins, looked like they would bravely bold on for a draw. But there was one final twist in this see-sawing contest when Kerr applied the finish to Scott's flick from Dave Carroll's corner four minutes from time. It left you breathless.
On technical merit this game was nothing to shout home about: defending by both sides was awful, though on the plus side there were lovely cameos of skill, and clinical finishing.
Blues boss Martin O'Neill said afterwards: "We are very pleased. I thought we couldn't defend but, luckily, neither could Hereford." For 21-year-old defender David Titterton it was a winning return to his old stamping ground. "I cannot explain in words what a win means to me- to come here and win against Hereford," he said. And Andy Kerr, remarking on a result which means Blues are still unbeaten in the League, said: "It's a relief. It's a bit disappointing that we didn't defend as well as we could have done."
The game started at a lively pace, Carroll, set up by Tim Langford and Scott, shooting into the side netting. Hereford's Derek Hall replied with a meaty shot superbly saved by keeper Paul Hyde on six minutes. But Scott opened the scoring from the penalty spot on nine minutes after Cousins, cleverly released by Carroll, was fouled inside the area by Gareth Davies.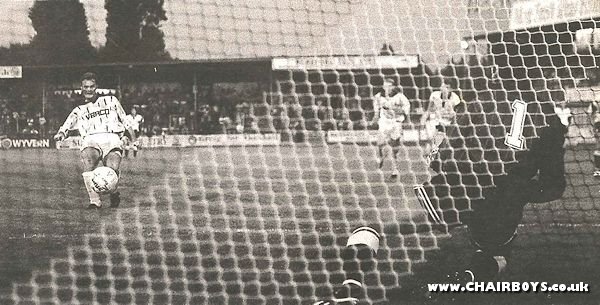 Steve Guppy's volley tested Hereford keeper Alan Judge, but the hosts levelled on 23 minutes. With Blues unable to clear, Chris Pike chested the ball down and burst to score from close range.
On-loan Terry Evans replaced the concussed Matt Crossley in the heart of Wanderers' defence, and was promptly booked for fouling Pike. Pike headed in his second, from Chris Fry's free kick, on 30 minutes. Blues equalised from their fist corner of the game. This was floated in by Carroll, Evans supplying the knock down for Kerr's low, headed goal on 42 minutes. Wycombe made it 3-2 on 52 minutes, Scott meeting Guppy's fine left- wing cross with a firm header.
After Anderson had taken out Cousins, which left the full back with bruising on his inside left knee, tenman Hereford replied with Hall's header from Fry's 59th-minute corner. Owen Pickard missed a great chance, Langford scored a 'goal' from Carroll's corner which was disallowed for an earlier infringement, and Cousins hit a post after good work by Langford. Then Wanderers' vociferous 500-strong support had the icing on the cake, delivered by Kerr.