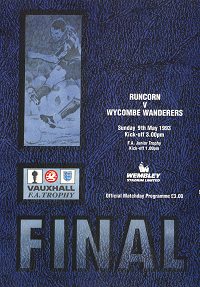 Sunday 9th May 1993 was to be Wycombe Wanderers sign-off from the world of non-League football. A showcase FA Trophy Final at Wembley against Runcorn awaited and close to 30,000 Wycombe followers would see their team rise to the occasion and spark scenes of jubilation never seen before surrounding the famous chairmaking town.
Before the game the nervous wait by the players for the annoucment of the team had to wait until the morning of the match. There was to be disappointment for Simon Stapleton who failed a late fitness test. Unsurprisingly Dennis Greene and Anton Vircavs were edged in the selection stakes but there was a massive disappointment for local hero Mark West as he was left out of the 13. However, there was delight for Geoff Cooper as he retained his place in defence and midfielder Simon Hutchinson. Steve Thompson came through an injury scare to make the starting line-up and play up front with Keith Scott.
After being greeted by a sea of light and dark blue from the Wembley stands any nerves on the pitch were quickly settled as Wanderers broke the deadlock after just two minutes. A foul on Keith Scott just to the left side of the penalty area gave Jason Cousins to rip the ball low past the Runcorn wall and into the far corner of the net.
The celebration that followed is unlikely to be matched in the history of the Club. Cousins headed for the opposite side of the pitch towards some of the Wycombe fans and attempted to climb the safety fence. As concerned stewards looked on, Wanderers supporters went wild and when relative calm had restored Cousins joined Scott in a bizarre dancing ritual.
Wanderers then gave themselves some breathing space with a second goal on 20 minutes after Thompson had got clear down the left flank but was fouled by Graham Hill. Dave Carroll swung in the resulting freekick towards the near post and Andy Kerr stooped to connect with his head from six yards and double Wycombe's lead. Cue some more mad celebrations, this version being the mountain of players catergory.
Any thoughts that this would be an easy victory were put on ice when Steve Shaughnessy pulled a goal back four minutes before the break when he struck home from the edge of the box. Scott saw a shot hit the crossbar moments later as Wanderers led 2-1 at the interval.
O'Neill gave his players something to think at the break but it still took a good save from Hyde to prevent Ken McKenna levelling minutes after the restart. But Wanderers quality began to shine and when Thompson headed in Steve Guppy's corner from the right on 59 minutes to make it 3-1 it was the boys in light and dark blue that took control.
A tactical change by O'Neill on 59 minutes saw Hakan Hayrettin replace Hutchinson in midfield and allow Dave Carroll to move out to his more favoured wide role. Meanwhile the first of two streakers made the briefest of appearances on the Wembley turf.
Runcorn's final flaying punch at the mighty Wycombe came around the 80 minute mark when McKenna's shot hit Paul Hyde's far post and looked to be crossing the line before Hyde clawed the ball out. McKenna's claims that the ball had already crossed the line were laughed away.
As the final minute on the clocked ticked away Scott and Thompson played an exchange in midfield before setting away Cousins on a rare venture up field. Cousins pushed the ball wide right to Carroll who with his last ounce of effort crossed the ball towards the far post. Sadly for Runcorn their 'keeper Arthur Williams mistimed his catch and could only direct the ball into the far corner of the net. It was 4-1, Carroll was claiming the goal, the Wanderers bench rose as one and the crowd went up one more notch in the ecstacy league. Seconds later the final whistle was blown and in another emotional touch it was injured Club Captain Glyn Creaser who climbed the Wembley steps to lift the Trophy. Incredible scenes!
Final Score Wycombe 4 Runcorn 1
Wycombe line-up vs Runcorn: Paul Hyde, Jason Cousins, Geoff Cooper, Andy Kerr, Matt Crossley, Steve Thompson, Dave Carroll, Keith Ryan, SimonHutchinson (sub 65 Hakan Hayrettin), Keith Scott, Steve Guppy - sub unused: Kim Casey - Att:32,968 Referee: I J Borrett

[Previous - Conference title celebrations] --- [Next - What they said after the Final]