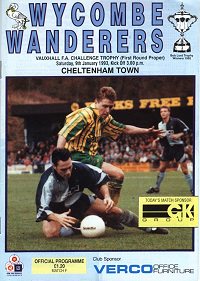 Wanderers Trophy campaign for 1992/93 kicked off on Saturday 9th January 1993 with a home tie with Cheltenham Town. The bookies made Wycombe 7-4 favourites to the win the competition prior to the game while if you fancied a flutter on the Trophy/Conference double you would have been given odds of just 2-1.
Those odds were eventually justified and fell even further after Cheltenham had been beaten at Adams Park. Dave Carroll after just 70 seconds and Keith Scott in the 8th minute set Wanderers on their way. Jason Eaton pulled a goal back for the visitors after 15 minutes but Andy Kerr restored the two goal advantage after 30 minutes and the rythmic dancer thought he'd scored another three minutes later but it was disallowed for a foul on the 'keeper. Skipper Glyn Creaser hit the woodwork twice in the second-half as Wanderers ran out 3-1 winners.
After the game Martin O'Neill was satisfied with the performance. He said "I don't think we sat back at all. We hit the bar three times. I thought we were reasonably comfortable. If they had got back into if for 3-2, it could have been heart-stopping for the last ten minutes, but we've won quite easily" And the Irishman was not amused with Kerr's second 'goal' being ruled out, adding "The Cheltenham players weren't complaining. The only person in the ground who thought it was a foul was the linesman"
Wycombe line-up vs Cheltenham: Hyde, Cousins, Crossley (sub 65 West), Kerr, Creaser, Thompson (sub 71 Hutchinson), Carroll, Greene, Stapleton, Scott, Guppy - Att:3,961

Wycombe were dealt a relatively tough away tie in the Second Round draw when they were paired with HFS Loans Premier side Morecambe Town. O'Neill commented "It's as difficult as we're likely to get, not in terms of distance, because I'd go to Tokyo if it was easy enough to play, but because they've put a good side together with a few of the lads from Witton who played in the last Trophy final"
But there was little time to start wondering about the tie at Morecambe before the news filtered through that Glyn Creaser would miss the remainder of the season when he suffered a broken heal after being hit by a fork-lift truck at work. The news was devasting for all concerned at Wycombe and O'Neill commented "I am the proverbial sick as a parrot. I cannot dwell on it but I feel desperately sorry for Creaser" Meanwhile from his hospital bed Creaser said "Nobody at the club wants to win this league more badly than I do. I still consider myself to be a big part of it. When I am up and about I am going to go to games to do what I can to motivate the chaps"

During the same week Martin O'Neill was being linked with the managerial vacancy at Notts County following the sacking of ex-toenail clipper Neil Warnock. But O'Neill was quick to dismiss the talk, telling the local press "They have not approached me and I will not be applying to them. Maybe my brothers have been putting in a good word for me up there?"

And there was also no stopping O'Neill as he continued his occasional programme notes - this classic extract from the home game with Northwich Victoria on Saturday 16th January.
"It has been a very traumatic week for us all. The news that Glyn Creaser will probably miss the rest of the season because of an injury at work has had a devastating effect on the Football Club. It seems inconceivable that he will play no further part in the fortunes of Wycombe Wanderers this season. His injury has left not only a gap in our defence but also a hole in terms of his captaincy. He will be badly missed. However out of adversity springs hope and if ever we need to pull for each other today's the day. More than signing new players, your vocal support will do more than anything to get us through.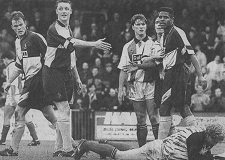 "On a lighter role Andy Kerr has had a strange old week himself. An absolutely brilliant goal against Cheltenham to put us 3-1 in front, another excellent goal a few minutes later (video evidence to prove it!!!) unfortunately disallowed by the linesman, followed by a court case in Aylesbury where two ladies were allegedly pulling each other's hair out to get Andy's "attention" at 3 o'clock in the morning - in his bedroom! Shades of George Best in his hey-day. Would Alex Ferguson and George Graham squabble just half as much to get Andy's signature on a contract? Andy himself quite rightly said in the papers that it was his own business. The players are mightily relieved that it hadn't been Justin Fashanu appearing up from the pillows that night - trying to get him to sign for Torquay. The Daily Telegraph does an excellent sports pull-out on Monday mornings - the rest of the proper news is a bit too intellectual for a man like myself - and Andy, I think. I like to read Michael Parkinson (yes, he who attends at least six football matches a decade) and his fortnightly desecration of the modern game. According to Michael great football and good honest sportsmanship died in the 1960's, when, of course, everyone played the game in the proper manner, and there was none of the silly tantrums that overpaid players nowadays get up to. How ironic that on the same page, The Daily Telegraph's "Back in Time" piece should feature Spurs' F.A. Cup game at White Hart Lane against Burnley in 1963 - the year of the really bad weather. The game, Spurs' first defeat in the F.A. Cup for three years, was held up for ten minutes because of a mass brawl among the players. Maybe some things never change?
"I just hope that Michael doesn't tell us, in his cricketing piece, that Geoff Boycott was an entertaining cricketer. Now that really would do my brain in! I saw Geoff open the batting for Yorkshire at Trent Bridge at 11.00 in the morning and get off the mark with a solid defensive push - at ten past five!! My old colleague, Kenny Burns, had great difficulty sleeping the night before big games. No amount of sleeping tablets could cure his insomnia. I gave him a video of Boycott's batting for England, for Kenny's perusal on a Friday night. It did the trick. Burns, after a good sleep on Friday nights, went on to become Footbailer of the Year in 1978. I have given this advice to Andy Kerr but he has, I believe, other, more hair raising methods of getting off to sleep. Still, everyone to their own."
[Next - Super Bobby steps in]