Wanderers, plus around 1,000 of their followers, headed north on Saturday 30th January 1993 for a Second Round FA Trophy tie at Northern Premier side Morecambe. This tie was never going to be easy and there was some very relieved faces at the end of the 90 minutes after Wycombe had come out with a 1-1 draw and a replay at Adams Park. Wycombe included on loan centre-half Bob Dewhurst in their line-up and together with Jason Cousins, Andy Kerr and Matt Crossley, provided a resolute rear guard.
On a pitch described as "Morecambe Bay with the tide out" by Pete Lansley in the Bucks Free Press it was Wycombe who eventually took the lead on 56 minutes when Steve Guppy picked up a short corner and crossed for Keith Scott to head home. Wanderers fans went crazy and the goal looked to be enough until Andy Green equalised with three minutes remaining. And then in the final minute Matt Crossley had to clear off the line after an almighty goalmouth scramble.
Wycombe line-up vs Morecambe: Hyde, Cousins, Crossley, Kerr, Dewhurst, Hutchinson, Carroll, Thompson, Stapleton (sub 75 Ryan), Scott, Guppy - sub not used: West - Att:2,192

The replay proved to be another awkward affair and it wasn't until a minute before the break that Andy Kerr broke the deadlock when he finished off from close range after Keith Scott had headed on Dave Carroll's corner. Earlier in the game the visitors had gone close on more than a couple of occasions, with 'keeper Paul Hyde a hero once again. 'Scotty' added a second eight minutes into the second period when he held off a challenge before nudging the ball home and thoughts of a Third Round home tie with Bromsgrove Rovers could begin. Speaking after the game Martin O'Neill said "The way we played in the first half tonight, anyone would have scared me. We were tentative and nervous. But we got the goal at the ideal time and thought we did much better in the second-half".
Wycombe line-up vs Morecambe: Hyde, Cousins, Crossley, Kerr, Dewhurst, West, Carroll, Thompson, Stapleton, Scott, Guppy - subs not used: Hutchinson, Ryan - Att:4,490

O'Neill had to deal with the loss of two more players due to injury prior to the next Conference game, at home to Kidderminster Harriers on Saturday 6th February. Rob Dewhurst hurt his knee in the Morecambe replay and never played for Wycombe again but will always be remembered by those who saw him. Meanwhile Steve Guppy cried off with flu, meaning a reorganisation that saw Keith Ryan play at left-back for the first time. Desperation hit another high in the foward line when Dennis Greene was called upon to partner Keith Scott but despite the changes in personel Wanderers nearly pulled off a victory. Simon Hutchinson gave the Wanderers the lead in the 13th minute when his "cross" went into the far corner of the net and a foul on Hutchinson in the 69th minute had just about everybody involved with Wycombe raging for a penalty. That decision proved decisive when Harriers equalised in the 89th minute through Chris Brindley and then Wycombe had to rely on Paul Hyde to tip a close range header from Colin Gordon over the bar in stoppage time. But the 1-1 draw still left Wanderers ten points clear at the top of the table, with Slough Town only having a game in hand.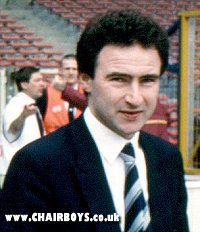 Martin O'Neill talked of the Kidderminster game in his programme notes for an important Conference game with Dagenham and Redbridge on Tuesday 16th February, commenting "I thought, under the circumstances, we played remarkably well, but needed the second goal to breathe more easily. I think we had rightful claims for a penalty turned down when one of their defenders had three attempts at hauling off Simon Hutchinson's jersey and jock-strap (video evidence clearly proves the point!). Still, shouldn't complain, should I, (as I have often been told before by some of the more illustrious members of the Football Club. Just grin and bear it!!!)."
O'Neill went on to discuss his quest for a left sided defender, saying "We have taken Les Thompson from Burnley until the end of the season. Les is a natural left-footed left back (at last, I hear you say!!) and I hope that he has a successful time with us. I have been looking for some time for natural left backs and have been quoted some rather hefty fees into the bargain. I'm not so sure that all the board members would wish to fork out £35,000 for a defender, no matter how accomplished he may be. Having said that, it is a compliment to Matt Crossley, a natural centre half, that he has done so well for so long in an unnatural role. Les Thompson, I hope, is one of a number of players coming into the Club in the next few weeks. We are still challenging for all three major competitions - Dagenham & Redbridge twice in the semi-final of the Drinkwise and the big F.A. Trophy game next Saturday against Bromsgrove Rovers - and I'm not sure the present depleted squad could cope with the vast number of games in such a short period. Kim Casey has been telling me for the last six weeks that he'll be fit in a fortnight. I had to remind him that the season ends in the first week of May - 1993!!"
The draw with Kiddersminster was followed by a 1-0 victory at Yeovil Town in the Drinkwise Trophy Quarter-Final - the only goal coming after 11 minutes when Scott headed in a Greene cross. The tie marked a rare First Team appearance for Chuck Moussaddik after Paul Hyde pulled up during the pre-match warm-up.
The week also marked the third anniversary of O'Neill's arrival at the Club. A fact mentioned by O'Neill in his now legendary programme notes. "The Chairman took me out for lunch last week to celebrate my third year as manager of Wycombe Wanderers. He told me that at times my stay at the Club had seemed like three minutes and that at other times it had seemed like three decades. He left the restaurant before explaining exactly what he meant by the statement - perhaps Kidderminster's last minute equaliser the previous Saturday was still on his mind."


[Previous - Super Bobby steps in] --- [Next - Bromsgrove in the Trophy - Club throw some toys]