Wanderers' Magic Moment at Wembley 1991
Saturday 11th May 1991
F.A. Trophy Final
Wycombe Wanderers v Kidderminster Harriers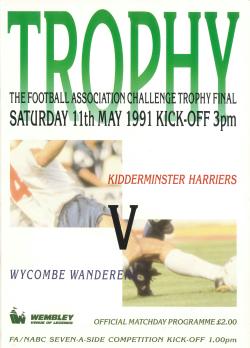 Wanderers' appearance in the 1991 FA Trophy was perhaps a defining moment in the post Loakes Park era. Having vacated the much loved town centre site in May 1990, Wanderers debut season at the newly built Adams Park culminated in Martin O'Neill taking the Club to only its second Wembley appearance and the first since the famous, but ultimately unsuccessful, meeting with Bishop Auckland in 1957.
Wanderers had last gone close to reaching Wembley in 1982 before falling over two legs to Altrincham. Nine years later there was to be revenge over the Cheshire club as after victories over Wealdstone (H), VS Rusby (A), Cheltenham Town (H) and Northwich Victoria (A), O'Neill's side won the first leg at Adams Park 2-1 with goals from Dave Carroll and Keith Scott, while the second leg a week later at Moss Rose saw Wanderers seal their Wembley visit with a 2-0 victory thanks to goals from Mark West and a late penalty from Keith Scott.
Wanderers had averaged 2,794 for League games at Adams Park for the 1990/91 season but the huge local interest in the Wembley appearance generated ticket sales in the order of 25,000. Ticket prices for the match at Wembley were £6, £10 or £12 and 17,000 were sold in the first week following the semi-final victory over Altrincham on Saturday 13th April 1991. On the day of the Final several special coaches and trains headed out of High Wycombe, some starting as early as 9am in order to sample what could potentially be a great day in the history of the Club.
Reporting on the match for the Bucks Free Press from Wembley Stadium, Pete Lansley wrote: Wycombe keeper John Granville braved the pain barrier of a broken thumb to play his part in Wanderers' first ever FA Trophy final win at Wembley on Saturday. Skipper Glyn Creaser and the goalscoring pair of Mark West and Keith Scott stood out, immediately after the final whistle, as heroes among heroes as Blues defeated Kidderminster 2-1.

But then out came the best-kept secret outside the walls of Adams Park as it was revealed that Granville had played with a broken thumb. Despite conceding a soft equaliser, Granville, playing with painkilling injections and a plastercast, went on to enjoy a decisive finish that contributed to Wycombe's eventual win. His ten-day old injury was kept quiet before the match so that Kidderminster would not be tempted to capitalise by applying any extra aggression.

But selecting heroes on such a brilliant day for Wycombe would be an endless task. There were 12 who played, and eight who didn't, but had played a part sometime in the season that culminated at Wembley. There was the management team, and 25,000 who did their bit in creating one of the most memorable occasions in the history of the club.

Wycombe deserved to win a game with a remarkably high number of chances because they chased with more zest, attacked more directly and defended more tightly. The Wembley pitch is exactly the size of Adams Park's, but despite this, the occasion sapped all the players' energies, and scoring chances were frequent. Kidderminster, who played some neat football with the extra man in the middle of the park, enjoyed their fair share of these. Failing to convert any of their three positive first- half openings left them trailing and Wycombe in the driving seat.

After a cagey opening in which Wycombe settled the better, Blues took the lead with only the game's second chance. Steve Guppy put West away down the left wing as Kidderminster's defence left him on- side, and Scott was on hand at the near post to bundle the ball home over the line.

But the goal spurred the midlanders on. After 26 minutes, Steve Lilwali burst between two Wycombe players and was through in Wycombe's penalty area. He chose to shoot early, from the corner of the box, and Granville saved his ground shot comfortably enough. Then Antone Joseph missed when unmarked ten yards out. Richard Forsyth found Lilwall, who crunched his way past Matt Crossley and sent a cross back perfectly for Kiddy's skipper to sidefoot embarrassingly wide. It was again down the left that Lilwall fed Dave Hadley and his cross was headed over by Delwyn Humphreys.

Wycombe's other best chance came after 28 minutes. Guppy and Stuart Cash combined to flight a ball in to Scott. He played a one-two with West inside the area, and arched a left-footer goalwards. Paul Jones, who played tremendously. well, flipped to touch the ball round the post.

With the goal advantage, Blues played like a side away from home, defending in depth and breaking well. Guppy in the second half and West, superbly throughout, helped ease pressure by going on runs down the flanks. After 31 minutes, West dispossessed Lilwall deep in Wycombe's half, saw off the midfielder's challenge and progressed to beat David Bamett out wide near the Kiddy area. Barnett, not for the first time, scythed West to the ground and earned a line in referee's Mr Watson's Wembley notebook. Kidderminster played the neater football, but Wycombe with more purpose. In midfield, Simon Stapleton battled magnificently, supported by Keith Ryan. The Harriers had Forsyth hanging back just behind Lilwall and Joseph, and Peter Howell just in front. The two full backs pushed forward to make up for the lack of width. Their formation had a direct bearing on the goals.

Manager Martin O'Neill said: "They're a clever side. playing with Howell not completely up or back. He caused us problems in the home defeat early December. So I was reasonably pleased to see him coming off." Harriers' full backs ensured Dave Carroll and Guppy had their work cut out tracking back. But gaps behind the full backs also allowed West and Scott space to create Wycombe's goals. On the hour, after Blues had lost the intitiative somewhat, McGrath volleyed a delicate ball forward to Hadley who ran at Creaser. Reaching the edge of the area, Hadley shot low but with unimpressive power. But Granville allowed the ball through his hands and Kidderminster were level.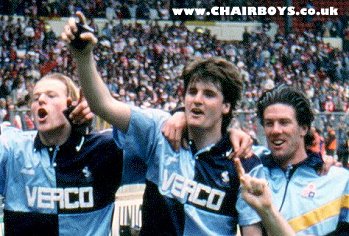 This was the fillip Blues needed, the kick in the guts to fire them up again. Ryan reposted by firing over from close range after Scott had headed down. Then Carroll, onside, in space, failed to control another Guppy cross as Blues stepped up the pressure. Creaser played a ball down the right wing for Scott. Having just delayed a cross and obliged the waiting West to sit out a chance, Scott this time played an early cross as his strike partner pelted into the area. The centre was knee high, but West timed a diving header to perfection to send the ball beyond Jones. O'Neill said: "It was a winner good enough to grace any Wembley game, and good enough to win this Trophy. "He wasn't always the fans' favourite, but he's had a magnificent season." In the closing minutes, Granville saved well from Lilwall, while Brett Wilcox, unmarked, headed feebily wide. McGrath volleyed over as well. But the best of the late chances fell to Carroll, whose left-foot shot from ten yards was well saved by Jones after Stuart Cash had made inroads. Then the nail-biting was over and Wycombe had won a cup at Wembley. What memories the team have created for us; what an incredible honour it was to be there.



Final Score: Wycombe Wanderers 2 Kidderminster Harriers 1


Wycombe: Granville, Crossley, Cash, Kerr, Creaser, Carroll, Ryan, Stapleton, West, Scott, Guppy (sub 90 Hutchinson) - sub not used: Robinson
Scorers: Scott 16, West 64
Bookings: Cash 76 (foul)

Kidderminster: Jones, Kurila, McGrath, Weir, Burnett, Forsyth, Joseph (sub 75 Wilcox), Howell (sub 67 Whitehouse), Hadley, Lilwall, Humphreys
Scorer: Hadley 60
Bookings: Barnett 31 (foul)

Referee: Mr Watson
Attendance: 34,842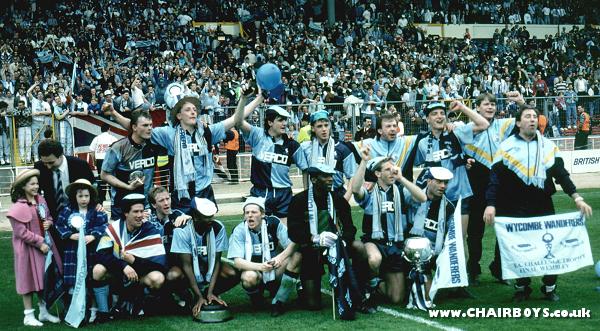 Back row: Martin O'Neill (Manager), Keith Scott, Glynn Creaser, Matt Crossley, Simon Hutchinson, Jim Melvin (Youth Team Manager), Simon Stapleton, Dave Jones (Physio), John Reardon (Assistant)
Front row: Martin O'Neill's daughters, Andy Robinson, Dave Carroll, Andy Kerr, Keith Ryan, John Granville, Stuart Cash, Mark West

The above article was first published by chariboys.co.uk on 17th May 2015 as a lead up to the League Two Play-Off Final between Wanderers and Southend United at Wembley Stadium on Saturday 23rd May 2015. An extended look back on the 1990/91 FA Trophy run is planned for publication during the 25th anniversary season (2015/16).