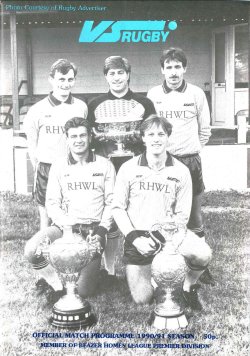 VS Rugby 0
Wycombe Wanderers 1
Saturday 2nd February 1991
FA Trophy Second Round
(research, memories and words by Paul Lewis - first published during 2015/16 to mark the 25th anniversary)
Having beaten Wealdstone in the First Round, Wanderers travelled to Southern League VS Rugby on the back of four consecutive League victories – the latest being a 2-1 midweek victory at Bath City thanks to goals from Keith Ryan and Mark West. Elsewhere, the departure of Nicky Evans to Barnet had been confirmed just five days after Wanderers' first round victory over Wealdstone. The 32 year old had left for Barry Fry's side for fee finally agreed at £28,500.

For the tie with VS Rugby, Martin O'Neill's side had defender Andy Kerr back in the side following a suspension, while new signing Mickey Nuttell got his first taste of Trophy action for Wanderers following a £6,000 move from Cheltenham the previous month. Nuttell had made his Wanderers debut in a 1-0 Bob Lord Trophy defeat at Kettering Town – coming on as a half-time substitute for leading scorer Mark West. West's goalscoring antics had been attracting the attentions of several Football League scouts and David Pleat and Mel Machin – managers of Leicester City and Barnsley respectively – had used the low key cup tie at Kettering to take a look at West. However, on a frozen surface, they were restricted in their evaluation with O'Neill explaining West substitution by saying: "He couldn't stand up, so I took him off. It was as simple as that."

Chuck Moussadik continued in goal in favour of John Granville. Moussadik had displaced Granville for the previous five games with O'Neill saying: "John Granville, by his own high standards, has not performed as well as he would like, or as well as he is capable of. At Darlington last year, he gave one of the best non-league performances of goalkeeping I have ever seen. John might judge himself by those standards. He was not making big decisions for the team, so it makes sense for him to be pulled out of the firing line. Chuck's done okay since he came in — the arrogance of the man! — but I'm hoping John Granville will come back firing. If he's got competition for the first time, it'll do him good. He's still got a big future here. Goalkeepers don't mature till they're 45 anyway."

VS Rugby included two former Wanderers in their line-up. Midfielder Anthony Riley had made 92 appearances for Wycombe between 1983 and 1987 and was a part of the squad that lifted the Isthmian League Championship in May 1987. While striker Mark Boyland had scored 10 goals in 23 appearances having joined Wanderers for £10,000 under Peter Suddaby in December 1987. Boyland left in September 1988 having failed to gel in the Wanderers squad under new boss Jim Kelman.

Wanderers also went into the tie with some recent history with the Southern League side – during the 1986/87 Isthmian League Championship season they had visited Loakes Park in the 4th Qualifying Round of the FA Cup and had run away with a shock 5-1 victory for one of Wanderers biggest ever home defeats in the FA Cup.

Looking for some form of revenge, Wanderers supporters travelling to the tie from High Wycombe could make use of a recently opened section of the M40 motorway between Waterstock and Warwick. This final section of the M40 had opened in January 1991 and provided a faster link to Birmingham and connecting roads.

The 500 plus Wanderers fans who made the journey would witness another close contest and an eventual passage to the next round that was far from simple – Martin O'Neill's side relying on a second-half header from Mark West to register the only goal of the game and see off the stubborn opposition.

Reporting for the Bucks Free Press from Butlin Road, Tim Singleton wrote: 'The Wycombe dressing room was alive to the chatter of players nearing a Wembley dream on Saturday evening — but how easily those dreams could have been deflated.

The Blues, chasing a place in the last 16 of the FA Trophy, were pushed every inch of the way by skilful VS Rugby. "We were poor," admitted manager Martin O'Neill. "But we won and people will have forgotten in ten days' time how poor we were. They knocked it about well in front of us, as we knew they would, but we were not under ferocious pressure."

Rugby striker Mark Boyland, together with full back Anthony Riley, had been seeking to ruin his old club's Trophy ambitions and moaned: "I think that we were by far the better team. We didn't have a lot of luck around the box and never got the rub of the green."

How true. And how Blues will be hoping that Lady Luck continues to shine exclusively on them in the three ties that now separate them from a May jaunt to the Twin Towers. But it is indicative of the game that West's 66th minute header, bulleted into the net from Guppy's swirling free kick, was the only time Blues hit the target.


Mark West (red shirt) heads home the winner for Wycombe Wanderers in the FA Trophy 2nd Round tie at VS Rugby. Wycombe's Andy Kerr looks on.
Picture by Steve Peart as published in the Wycombe Wanderers matchday programme.


Wycombe struggled through out to get the ball on the ground to play their normal passing game, leaving the intricacies to Rugby who shamed their illustrious visitors with some attractive if ultimately worthless movements.

Rugby failed to trouble Chuck Moussadik with on-target attempts, but he still suffered some anxious moments, certainly in the first half when Smith's cross flashed across him and in the second when the impressive Niblett failed to connect with a hanging corner.

Kerr and Creaser stood up remarkably well to the Rugby onslaught, but their anxiety to clear on a bumpy pitch meant Stapleton and Ryan struggled to put their feet on the ball until Rugby tired near the end. In that light the early loss of hamstring-struck Carroll did not hamper Blues too much. "The pitch was a bit bobbly and we didn't get the ball down," said match-winner West, savouring his 30th goal of the season.

Wycombe may have been un impressive but past winners have often stuttered along the road to Wembley — as Wanderers well know.'


Wycombe: Moussadik, Crossley, Walford, Kerr, Creaser, Carroll (sub 24 Hutchinson). Ryan, Stapleton, West, Nuttell, Guppy - sub not used: Whitby
Scorer: West 66
Bookings: -
VS Rugby: Martin, Riley, McGrory (sub 87 Bullions), Niblett, Halton. Shearer, Rosegreen, Ross, Boyland, Smith, Geddes - sub not used: Taylor
Scorer: none
Bookings: -
Referee: Mr G Willard
Attendance: 1,834

Wanderers were drawn at home to Cheltenham Town in the Third Round. It would prove a chance for Martin O'Neill's side to extract revenge for a Boxing Day (1990) defeat to The Robins at Adams Park. O'Neill commented: "Any home draw we would've settled for, but Cheltenham we owe them one." He added: "When I go up to Nottingham, people still talk about the Peterborough thing and I start to think: 'Did we actually win that game?' We lost." O'Neill went on to say taht another couple of good results could mean another crowd in excess of 4,000 for the Cheltenham game, "So far we haven't kicked a ball in the Trophy and won two matches and haven't conceded a goal."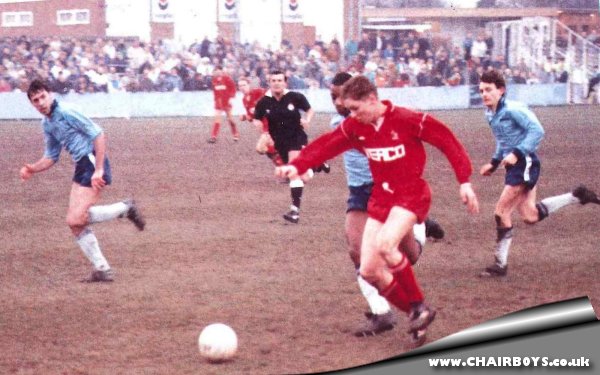 Steve Guppy looks to lose his VS Rugby marker in the FA Trophy tie at Butlin Road. Former Wanderer Anthony Riley is the VS Rugby player looking on in the right of the picture.
Picture by Steve Peart as published in the Wycombe Wanderers matchday programme.
Saturday 23rd February 1991 - Wycombe v Cheltenham - FA Trophy Third Round
report, memories and pictures >>>

FA Trophy memories 1991 - 25 year anniversary retro index