Wanderers travelled to Hayes on Tuesday 2nd September 1986 aiming to protect their 100% start to their 1986/87 League campaign. Church Road had become a bogey ground for the Wanderers with defeats in the previous six League visits and against a side that included Les Ferdinand (later to join QPR), it looked for sometime that those frustrations may continue. Ferdinand twice went close for Hayes but it was keeper Mark Hyde (brother of Paul who would join Wycombe in 1991) who denied Wanderers on several occasions as the score remained goalless up to the hour mark. But just as Wanderers sizeable support in the 633 attendance were wondering if a goal would ever come it was former Hayes forward Byron Walton who struck twice to give Wanderers a 2-0 victory. The breakthrough came on 64 minutes when youngster Graham Bressington's through ball found Noel Ashford whose pin-point cross was headed in with glee by Walton. With Hayes now on the back foot Walton made it 2-0 four minutes later after he launched himself in to force home a Kevin Collins corner.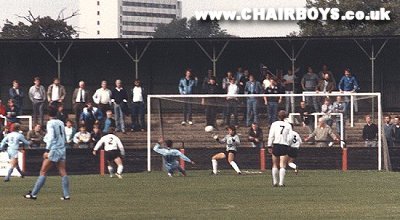 The following Saturday (6th September 1986) there was no stopping Wycombe's impressive start to the season as Bromley were beaten 4-0 on their own patch. The game saw Alan Gane give a run out to 18 year old Brentford trainee Jamie Bates. The youngster 'did not settle as well as expected in central defence' according to Bucks Free Press reporter Rolf Niven and it proved to be Bates' only appearance in a Wycombe shirt before a 13 year gap passed after which he joined on a permanent basis under the Managership of Lawrie Sanchez. Elsewhere in the Wycombe side Andy Graham made his debut as a second-half substitute but looked far from fit and wasn't to play again for a month. Wanderers' goals at Bromley saw Bryon Walton and Mark West continue their goalscoring exploits with one apiece, while an own goal and headed goal from skipper Kevin Collins completed the victory which took Wycombe five points clear of second place Hendon (16 points) and seven clear of Yeovil, although the Somerset side had still played a game less.

The next game on Tuesday (9th September 1986) was at home to newly promoted St Albans City and with local interest in the Wanderers beginning to increase, the attedance of 1,089 was the biggest midweek League gate at Loakes Park for several years. Once again it was Noel Ashford who stole the show, scoring the opening goal on 21 minutes when he shot home after a throughball from debutant Jason Seacole. 25 year old Seacole had been signed by Alan Gane from Swindon Town and boasted a nine year spell with Oxford United (considered at the time to be quite a 'big' club). Trailing 1-0, the visitors responded well after the break and it was only after a double substitution of Neal Stanley and Kevin Connnolly for the injured Byron Walton and Kevin Durham that Wanderers doubled their lead on 70 minutes when Mark West rounded the St Albans defence before firing home from 10 yards. A few moments later Ashford stabbed home Wanderers' third goal to secure the 3-0 victory and an eightth straight League win. Alan Gane commented after the game "They (St Albans) competed harder than anyone we've played this season. We slackened off at the end of the first half and the start of the second. But it was nice to score three goals and do it on front of a big crowd."

Wanderers were spared a League game the following Saturday due to other clubs being involved in the early qualifying rounds of the FA Cup but off the pitch the action continued with the launch of 'League Line' on Thursday 11th September 1986. Described by Paul Birdseye, Wanderers' Commercial Manager at the time, as "what should prove to be a momentous occasion in the history of Wycombe Wanderers FC". The aim of League Line was to help fund the Club's ambition to gain promotion back to the Conference and subsequently the Football League. This was to be achieved by members of the Society paying £2 per week who would then be entered in a weekly draw where prizes of £1000 were promised. Close to 400 people attended the launch at The Town Hall in High Wycombe where Steve Coppell was amongst the speakers.

A home tie with Hornchurch in the AC Delco (Isthmian League Cup) on Tuesday 16th September 1986 looked on paper to be an easy tie but with the scores level at 1-1 after 90 minutes it took two extra-time strikes from Mark West to put Wycombe in the driving seat at 3-1 up. Even then the visitors hit back with a goal three minutes from the end of the two hours and only the crossbar saved Wycombe the incovenience of having to face a replay. But Wanderers had some excuses for the poor showing. Injuries had kept out Kevin Durham, Byron Walton and Noel Ashford, while Graham Bressington was suspended. Alan Gane was also missing as he attended a spying mission watching the Farnborough v Yeovil match on the same evening. Those two teams would provide the Wanderers next opposition as League action resumed.

4th place Farnborough Town were the first of the duo to take on Wycombe when they visited Loakes Park on Saturday 20th September 1986. They included former Wanderers Brian Broome and Simon Read in their line-up. Meanwhile, Alan Gane was forced to play a 'not quite fit' Dave Burgess in defence after Jamie Bates was called up for the Brentford squad. In front of the biggest crowd of the season to date, 1,151, Wanderers got off to another encoraging start after 12 minutes when Mark West converted a cross from the now regular provider Noel Ashford. But Wycombe didn't capitalise on the goal and the visitors equalised 12 minutes later when Gary Lester, who had injured a leg in midweek while playing badminton, dropped a corner from Jimmy Bolton and Neil Norman stabbed home. But it was Lester who kept out Boro for the remainder of the half and Wycombe continued to struggle in the second period. It was only in the closing quarter of an hour that Wycombe looked like scoring and Kevin Collins should have regained the lead for Wycombe when set up by, guess who, Noel Ashford but Collins fluffed his shot. Then as most people looked to have settled for a draw, Wanderers slumped to their first defeat of the season when full-back Richard Blue failed to cut out a through ball and Jimmy Bolton went on to beat the advancing Gary Lester to give Boro a 2-1 victory.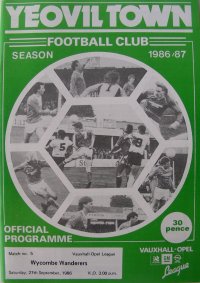 The trip to Yeovil Town on Saturday 27th September 1986 was proceded by the shock news that skipper Kevin Collins had decided to move to Australia. Collins, known as 'Elvis' had joined the Wanderers in November 1984 and was a popular player with the Loakes Park faithful. He told the local press that relegation the previous season had been a factor in his decision to seek work down under. But before departing his said, "I will always have regrets leaving at this time because the team is doing so well. I believe it will be a two-horse race for the title between Wycombe and Yeovil. Wanderers have got a very good squad together and I wish them well."

The Bucks Free Press previewed the meeting with Yeovil with the headline Wycombe face battle with the money men before highlighing the fact they had bought former Bristol Rovers striker Paul Randall for £5,000 and handed over a record £7,500 in the summer for Tony Ricketts from Bath City. Alan Gane commented, "The stakes are high with Football League status well within both clubs' reach. It should be a good game."

Incredibly Wycombe travelled to Yeovil without Gane and Assistant John Reardon. Gane was on a business trip to Holland and Reardon was unable to make the journey. Coach Richard Teale took charge for the day and in front of a crowd of 3,169 (officially 'massive' by Isthmian League standards) saw Wanderers edged out and thus surrender the lead in the table for the first time in the season. The home side took the lead in the second minute when a deflected free-kick from Alan Pardew fell to the unmarked Phil James who shot past Gary Lester. The home fans went wild (that is wilder than normal) but were silenced just six minutes later when a Jason Seacole worked the ball in to Ashford who turned and shot past a lethargic Dave Walter in the Yeovil goal. This time is was Wanderers' travelling fans turn to celebrate and a point or all three looked on the cards until 12 minutes from time when Pardew connected with a Tom Ritchie corner to shoot past Lester off the post. Walter tipped away a late header by Walton as Yeovil edged out Wanderers on a day when tensions ran high both on and off the pitch.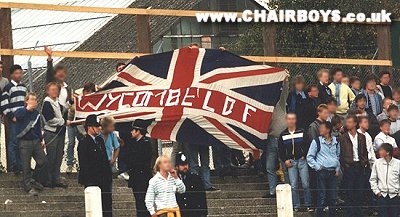 The aftermath of the match at Huish saw Wanderers' Secretary John Goldsworthy comment in the matchday programmme, "Very sadly we had to tolerate the obsenities being chanted by a small number of locals and a similar repsonse by those few anti-social riff-raff from Wycombe, who made their way independently to Yeovil and not with the organised supporters. The fact that there was no physical violence was due to the vigilance of the local police." JG went on to explain that Yeovil would have had to pay a minimum of £350 to police the match and added, "Because of possible problems by the Wycombe riff-raff we always have a constable at our home games. That costs us £52, Over a season the total cost is about £1,500. That money would pay for another player, or half our rates bill, or half our gas and electricity accounts..."

The Wycombe/Yeovil rivalry would continue for the remainder of the season as the two sides crossed swords on a further three occasions. But at this stage it was Yevoil who headed the table and earned the early bragging rights.


  
Vauxhall Opel League Premier Division
Up to and including Sat 27th Sep 1986
Top six only

                PL  W  D  L  GF  GA Pts
1. Yeovil Town  10  8  2  0  16   5  26
2. Wycombe W    10  8  0  2  23   7  24
3. Farnborough  11  7  1  3  27  19  22
4. Bognor Regis 10  5  4  1  21  12  19
5. Barking      10  5  3  2  21  11  18
6. Slough Town   9  5  2  2  19   9  17

Part 3 - October 1986 - Former cult hero joins the Wanderers, up for the local derby at Slough, FA Cup disaster against VS Rugby. First ever issue of Chairboys Gas fanzine.
1986-1987 index