November 1986 turned out to be a significant month for the Wanderers in their quest to gain promotion to the Conference. The 5-1 home drubbing by VS Rugby in the FA Cup in October was a shock to the system but a little pride was restored the following Saturday (1st November 1986) when a hat-trick from Jason Seacole sent Wycombe on their way to a 4-2 League victory over Worthing at Loakes Park. The visitors, fifth from bottom in the table, were 3-0 down at the break with Seacole scoring either side of a brilliant goal from Noel Ashford, who chipped the ball over Worthing 'keeper Simon Steele after Mark West's shot had rebounded off a defender. But thoughts of an easy ride were abandoned when Worthing pulled goals back through Kevin Foreman on 54 minutes and then five minutes later through top scorer Mick Edmonds. Gary Lester then had to save to prevent a dramatic equaliser before Seacole completed his hat-trick on 69 minutes when the former Oxford United striker followed up a Mark West shot. The result left Wycombe two points clear of Yeovil Town at the top of the table.

Hayes were Wanderers next Isthmian League opponents when they travelled to Loakes Park on Tuesday 4th November 1986. An attendance of 773 saw Wycombe consolidate their League position with a 2-1 victory but had to come back from a goal down after Les Ferdinand capitalised on poor back header from Keith Barrett with six minutes gone. Wanderers were level on 20 minutes when Andy Graham prodded home from Mark West's ball into the box. The game came within a minute of the start of the second half when Jason Seacole continued his scoring touch when he drove home after Hayes 'keeper Mark Hyde had palmed away a Graham Bressington cross. Wanderers dominated the remainder of the match but missed the chance to notch up their goal difference.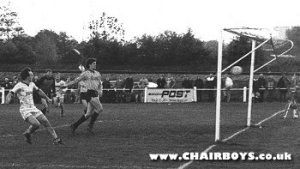 The following Saturday (8th November 1986) the Wanderers encountered a tough battle away to Wokingham Town. Manager Alan Gane took the brave decision to drop top scorer Mark West from the starting team and bring in Byron Walton. The decision was vindicated as Walton caused problems for the home and was involved in the only goal of the game five minutes into the second-half. Walton stole the ball from a Hayes defender on the left wing and then knocked the ball into the path of Noel Ashford who slotted home at the far post.

Wanderers renewed their rivarly with Yeovil Town on Tuesday 11 November 1986, this time in the 'GMAC Cup', a competition set-up for clubs in the Conference and its three feeder Leagues. The tie at Loakes Park saw Wanderers lead 1-0 thanks to a 14th minute goal from Andy Graham, who slid home a cross from perenial provider Noel Ashford. Perhaps significantly Yeovil were down to ten men at the time following a 'robust' challenge from Byron Walton on Tony Ricketts which resulted in the Yeovil defender being carried off and subsequently ruled out for the rest of the season. But Yeovil were handed an equaliser on a plate ten minutes after Graham Bressington pushed Alan Pardew in the box and Phil Fern converted the spot kick. From that point on the visitors dominated and following the break gave every sign that they would continue to give Wanderers stiff competition in the League, with three goals in the opening ten minutes to run out 4-1 victors on the night.

Bucks Free Press reporter Jim McCann was in now doubt of Yeovil's potential to cause Wycombe grief in the League, commenting, "Many people with blue tinted spectactles will say it was only a defeat in the GMAC Cup , the latest unnecessary addition to a crowded football calender. A blessing in disguise, I hear. In many ways that is true. But what is even more true is that Yeovil confirmed that they are the team everybody - including Wycombe - will have to beat to clinch a spot in the Vauxhall Conference." Meanwhile, Wanderers boss Alan Gane said he was not upset at the defeat but at the way in which his side had lost, adding, "We were by far the better side in the first half and then Bressington made a stupid schoolboy error. That goal changed the match and in the end they murdered us. We learnt they are a very good side indeed."

It appeared that Barry Silkman's performance against Yeovil was the final straw for Gane in deciding whether to keep on the former cult hero. Gane told the Bucks Free Press, "Unfortunately Barry will only play they way he wants to and that isn't enough for me. To get the best out of him I would have had to rebuild the team around him and I'm not prepared to do that." Gane went on to say he need a ball winner in midfield and that Silkman was not that type of player, adding "If you analyse it, he only performed well when the team was winning and he has space to move. But when it came to crunch games he wasn't prepared to fight or defend and that made us weak and vunerable." After explaining the decision to Silkman, Gane said, "It was hard and Barry was a bit surprised. He is a good mate but there is no room for sentiment. Certainly Barry helped us in some games and he brought a smile to the fans faces with his skills. But we are not here to look nice - we are here to win". Silkman's departure came in the same week that midfielder Paul Hackett returned to Aylesbury United after failing to break into the Wanderers First Team. Other player news saw the return of Kevin Durham following his injury, while Kevn Connolly was also vying for a First Team spot following the exit of Silkman and Hackett.

Wanderers' outstanding League form continued on Saturday 15th November 1986 when Hendon were the visitors to Loakes Park. A 5-0 scoreline emphasised Wycombe's dominance of the game and there was now as much interest in Yeovil Town's result on the same day, as with Wycombe's. The Glovers had opened the month with three sucessive victories in the Isthmian League and continued their run on 15th November with a 3-2 home victory over Harrow Borough in front of a crowd of 2,027. Meanwhile, Wycombe attracted a gate of 1,042 for the visit of Hendon who with a young Ian Dowie in their side were blown away by a goals by Keith Barrett (a scorching shot after 12 minutes), Ashford (following up his own penalty after 22 minutes), Walton (32 minutes) and two from Andy Graham (58 and 77 minutes).

There was another break from League action the following Tuesday (18th November 1986) when Worthing returned to Loakes Park, this time for a tie in the Second Round of the AC Delco Cup (Isthmian League Cup). It was not an impressive performance from Wycombe and they were five minutes away from crashing out of their third cup in a month. Worthing had been gifted the lead on 41 minutes when a Kevin Day backpass let in Danny Deans to convert pass Gary Lester. That goal looked to be enough for victory for the visitors until Jason Seacole pounced to drill home an equaliser and take the tie to extra-time. Then it was left to an out of favour Mark West to grab the winner on 94 minutes when he managed to connect his head to a wayward cross from Kevin Durham and knock the ball past Simon Steele. The performance was described as "One notch above pathetic", by Bucks Free Press reporter Jim McCann and Alan Gane wasn't best pleased either as he kept his team in for an extended after match discussion in the dressing room. He emerged to tell the press, "We just can't seem to raise our game in cups the way we do in the League. We're certainly not 'throwing' cup games and no matter what anyone says they are important to us. But it's rare to see a side so keyed up for every League game and that's what my lads are like." Wanderers would find out later that the draw for the Third Round had pitched them against Yeovil.

Wanderers would spend the next three successive Saturday's on the road in what looked to be challenging set of fixtures. First up on Saturday 22nd November 1986 was the trip to Bishop's Stortford. Stortford went into the game unbeaten at home in the League that season but were demolished by a Wycombe side that had Noel Ashford returning after missing the Worthing game due to injury. The England non-League international stole the show with two goals. Ashford opened the scoring on 17 minutes with a cracking volley from the edge of the box but Wycombe were pegged back seven minutes before the break when Kevin Newbury's low shot beat Gary Lester. The Wanderers 'keeper also kept the scores level with the save of the match on 57 minutes to deny a David Johnson 20 yarder. But Wanderers never looked back after regaining the lead on the hour whene Jason Seacole converted Andy Graham's cross from the left. Two minutes later Ashford made it 3-1 when he stabbed the ball home after his initial header had struck the crossbar. The victory was completed a minute from time when Stortford 'keeper Martin Taylor, under pressure from Mark West, could only palm Kevin Durham's in-swinging corner into his own net. Once again Yeovil matched Wycombe's result with a 4-0 victory away to struggling Walthamstow Avenue.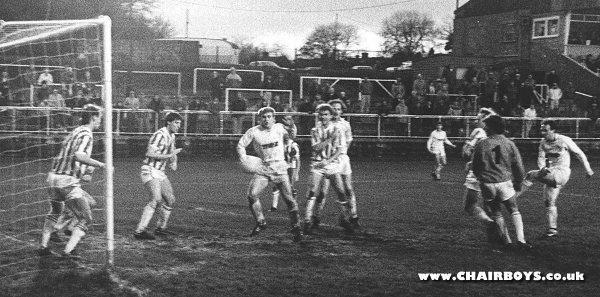 The month closed with the trek across London to play Barking on Saturday 29th November 1986. Barking, third placed in the League and also unbeaten at home that season were never easy opponents and especially on a pitch that resembled a ploughed field. After a goalless first half, there was no indication of the drama to follow. First a floodlight failure held up the start of the second period by six minutes but on resumption Wanderers were ahead within two minutes when Kevin Day crashed home his first goal of the season. It was 2-0 to Wycombe on 60 minutes when Bryron Walton fired home a loose ball after a goal line clearance. That should have put Wycombe in the driving seat but the home side reduced the deficit when former Wanderers star George Borg converted a penalty after Neil Price had been penalised for a hand-ball. Second later Barking were level when Tony Rogers headed past Gary Lester. 'Real End to End stuff' followed but it was Wanderers who regained the lead on 73 minutes when Andy Graham headed home a corner, then with ten minutes remaining the game looked sealed when Kevin Durham cut in from the right, beat two defenders and shot past Gary Harrold to make the score 4-2 to Wycombe. However, the incidents for the day were not over when the match referee pulled a leg muscle and had to be replaced by his linesman. By the time the officials were sorted out there were only two minutes of normal time remaining but a massive nine minutes of stoppage time. A minute into that stoppage time Paul Wilson shot past Lester to make the score Barking 3 Wycombe 4 and then in the ninth and final minute of stoppage time Barking midfielder Jon Bolle was left in space just three yards from goal but contrived to blast his shot against the post and Wycombe cleared before the final whistle confirmed Wandrers eighth successive League victory. And this time the result was made to look more significant when the news filtered through that Yeovil had suffered a 2-0 home defeat to Dulwich Hamlet, leaving Wycombe five points clear at the top.



  
Vauxhall Opel League Premier Division
Up to and including Sat 29th Nov 1986
Top six only

                PL  W  D  L  GF  GA Pts
1. Wycombe W    20 16  1  3  51  17  49
2. Yeovil Town  20 13  5  2  33  14  44
3. Farnborough  19 11  3  5  42  33  36
4. Bognor Regis 17  9  7  1  39  24  34
5. Barking      20  9  6  5  40  23  33
6. Slough Town  16 10  2  4  35  17  32

December 1986 - Fantastic League form continues but guess what in the Cups?
1986-1987 index