Wanderers' FA Amateur Cup run of 1956/57

Wanderers' 1956/57 season will be best remembered for the Club's first ever visit to Wembley Stadium having reached the Final of the FA Amateur Cup. With two semi-final defeats in the earlier part of the decade, this proved to be the third time lucky for the Wanderers and the visit to the 'Twin Towers' captured the imagination of the town, with more than 20,000 followers making the short journey to cheer on the team against the then mighty Bishop Auckland. This page follows Wanderers' route to the 1957 Final that started in January 1957 at Clarence Park, St Albans. A further page looks back at the day out at Wembley on Saturday 13th April 1957. First a reminder of the squad that featured in the run.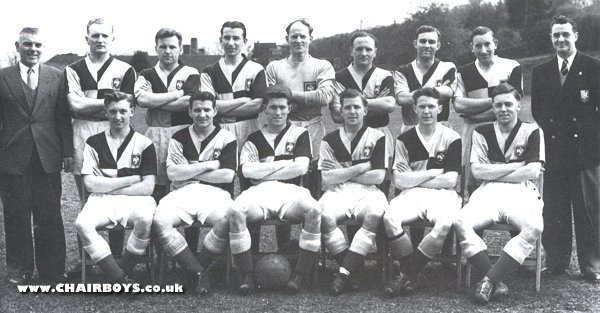 Wycombe Wanderers - 1957 FA Amateur Cup Final Squad
Back row: Sid Cann (Coach), Geoff Truett, Freddy Lawson, Michael Wicks, Dennis Syrett, Jimmy Truett, Jimmy Moring, Frank Westley (Captain), Bill Hayter (Secretary).
Front row: Len Worley, Cliff Trott, Paul Bates, Jackie Tomlin, Frank Smith, Dennis Atkins.

Saturday 12th January 1957
F.A. Amateur Cup First Round
St Albans City v Wycombe Wanderers

At Clarence Park - Attendance: 4,160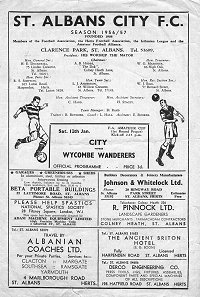 Almost 2,000 Wycombe fans made the journey to Hertfordshire to watch an action-packed cup tie as Wycombe saw off St Albans. The match had remarkably few fouls in a cup-tie that saw a surprise return from Len Worley. Worley had been injured at Romford the previous week, and within ten minutes it seemed the gamble had failed as the winger left the field for treatment, returning only to hobble on the wing in pain until leaving halfway through the second half with the game won. Wanderers were also missing Pilot Officer Frank Smith. The utility forward had missed the last nine games whilst in hospital with a pneumothorax and although he had made a remarkably good recovery and having resumed training after being declared fit by medical officer, it was felt that he should have another week's rest.

Wanderers attacked from the off and Trott was unlucky to see his goal ruled offside. There was a clash of heads between Tomlin and St. Albans "Chick" Head and whilst the later received treatment Wanderers took advantage. Atkins crossed for Trott to fire home. St Albans goalkeeper Prebble saved at the feet of Atkins, who then saw his volley cleared off the line by Law. Lawson did the same for the Blues from a St Albans corner.

Nine minutes into the second half Paul Bates robbed City full-back Collings and smashed home past Prebble. The home side didn't give up though and Tompkins fired a shot against the post and then somehow blazed wide of an open goal. Wycombe then took command and Geoff Truett beat several defenders before rounding the keeper to score a wonderful goal. A minute later it was four, Trott's corner was flicked on by Tomlin to Bates who beat a couple of defenders before smashing the ball past Prebble. The home side scored a consolation with five minutes remaining when Head's shot beat an unsighted Syrett.

St Albans City had their share of the game but the final score was a fair reflection of the Chairboys superiority. However there was still the Worley controversy and many Wycombe supporters were highly critical of the decision to play Worley. Coach Sid Cann explained, "The doctor pronounced Worley fit; I decided he was all right - and Len himself confirmed that he was OK - and it was decided that he should play. But unfortunately he got another crack in the first few minutes. The other injury was in the thigh; this was a twist lower down."

Final Score: St Albans City 1 Wycombe Wanderers 4

Wycombe Team: D Syrett, F Lawson, F Westley, G Truett, M Wicks, B Darvill, L Worley, C Trott, P Bates, J Tomlin, F Smith.
Scorers: Trott 15, Bates 55, 65, G.Truett 64

St Albans Team: T Prebble, F Collings, A Law, W Southern, R McCormack, L Channer, H Bird, G Head, A Tompkins, C Greenwood, H Whittan
Scorers: Head 85



Saturday 26th January 1957
F.A. Amateur Cup Second Round
Wycombe Wanderers v Clapton

At Loakes Park - Attendance: 10,000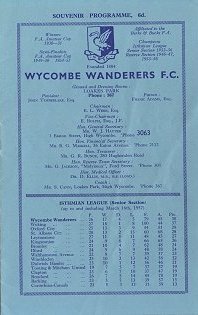 Speculation about the Wanderers line-up ended with Barry Darvill named at left half although it was only when he switched with Freddy Lawson that the Wanderers won the battle with Clapton. Smith and Worley returned to into the Wanderers fast-moving, ever-dangerous forward line.

The game started in dramatic fashion with the visitors taking the lead after only seven minutes. Passmore's corner was converted at the second attempt by Mick Lyons from close range. However, Wanderers deservedly equalised after twenty minutes, Clapton's gloves man Homan was rooted to the spot as Lawson's shot smacked against the post and Bates fired home the rebound. The home team maintained the pressure and took the lead seven minutes later, Worley's corner headed empathically home by Tomlin. Clapton were far from beaten and soon equalised. Another Passmore corner was turned home by Bennett. In a see-saw game the Blues found a perfect response and took the lead again a minute later. Another Worley corner was headed on by Tomlin to Bates who fired home from a crowd of players past the helpless Homan.

After a tactical re-shuffle the Wanderers looked more comfortable, but Clapton almost found an equaliser when Bennett disposed Syrett only to be rescued by Westley who cleared. With twenty minutes left Lawson defence splitting pass found Smith who crossed for Bates to drive home from the edge of the box. Homan kept the score down saving from Trott's diving head who then smashed a shot against the crossbar after a wonderful solo run.

Final Score: Wycombe Wanderers 4 Clapton 2

Wycombe Team: D Syrett, F Lawson, F Westley, G Truett, M Wicks, B Darvill, L Worley, C Trott, P Bates, J Tomlin, F Smith.
Scorers: Bates 20, 70, Tomlin 27, Bates 36

Clapton Team: S Homan, L Wilkinson, G Bumpstead, F Mann, G Luker, G Belchamber, M Lyons, C Thomas, K Bennett, R Foster, D Hull.
Scorers: Lyons 7, Bennett 35



Saturday 9th February 1957
F.A. Amateur Cup Third Round
Wycombe Wanderers v Hounslow Town

At Loakes Park - Attendance: 12,000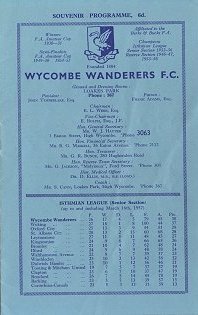 Some 12,000 saw Wanderers win a thrilling tussle with battling Hounslow Town. Jim Truett put in a sterling display at left-half despite playing with his left wrist in plaster whilst his brother Geoff Truett was the Man Of The Match on the right flank.

The two sides indulged in a chess-like first 15 minutes before Hounslow's Patterson shot was saved by Syrett. The home side responded with Dawson saving Atkins snap shot. The first goal wasn't long in coming. Atkins found Worley whose left foot shot was turned home by Bates through a crowded goalmouth. Wycombe extended their lead five minutes later when Geoff Truett ran onto a loose ball and smashed home past a stunned Dawson from 20 yards. The same player then fired a free-kick over before Syrett was called into action, pushing Patterson's shot onto the bar.

Hounslow came out in fighting in the second half and winger McDuell missed two sitters. It was third time lucky as McDuell was foiled by Syrett only for Patterson to tap home the rebound. As the conditions worsened so did the Wanderers who were hanging on to their lead. However twenty minutes remaining the decisive third goal came, Bates played a sublime 30-yard defence splitting pass to find Atkins and Trott slammed the cross home only for the linesman to flag offside. The whole Hounslow side surrounded the referee, who awarded the goal without consulting his linesman. The visitors visibly lost heart and only desperate defence kept the score down with Bennett saving from Bates and Emmins clearing Atkins shot off the line.

Final Score: Wycombe Wanderers 3 Hounslow 1

Wycombe Team: D Syrett, F Lawson, F Westley, G Truett, M Wicks, J Truett, L Worley, C Trott, P Bates, J Tomlin, D Atkins.
Scorers: Bates 27, G.Truett 32, Trott 70

Hounslow Team: D Dawson, G Taylor, E Emmins, B Wales, B Bennett, D Evans, G Osborne, H Pope, L Patterson, D D'Arcy, R McDuell.
Scorers: Patterson 57



Saturday 23rd February 1957
F.A. Amateur Cup Fourth Round
Ilford v Wycombe Wanderers

At Newbury Park - Attendance: 12,000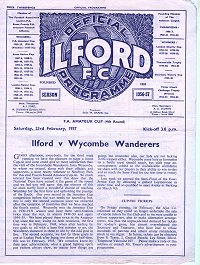 Despite being drawn away from home, the Wanderers were quietly confident as they traveled to East London. A fleet of almost 160 coaches and another thousand on special through trains (costing 5s 9d return) helped aid a Chairboys invasion. The Wanderers, playing in Red Shirts and White Shorts, played their full part in an exhilarating game, which was all the more surprising as four hours of heavy rain had turned an already muddy pitch into a quagmire.

The Wanderers star man was again Geoff Truett who really stood out along with the never-say-die Cliff Trott. Within three minutes of the kick-off the home side had taken the lead, Taylor crossed for Bill Butler to head home past Syrett. Despite the bad start, Wycombe recovered and Frank Smith's cross found Trott who beat Whittall and fired past Gibbins only for the goal to be ruled offside. The game was end-to-end with the goalkeepers frequently called into action. Trott beat a couple of men before firing in a cross which was missed by the home keeper and handled by Whittall. Tomlin fired the loose ball home but the referee had already awarded a penalty. Geoff Truett buried the penalty giving Gibbins no chance. Four minutes later and Wycombe took the lead Frank Smith broke through and found Trott who again beat Whittall before shooting into the net past Gibbins.

The second half started dramatically as Lawson blocking Taylor's shot, the referee waving away the home side's loud appeals for a penalty. Wicks headed clear the corner but was returned in spectacular fashion as Whittall's lob shot from 25 yards beat Syrett. Nevertheless the Chairboys responded and Geoff Truett's 30 yard throw-in was flicked on by Bates for Trott to head home. Wycombe then had a spell on top without ever looking like added to the score and with ten minutes to go Simmons free-kick found Bill Butler who chipped past Syrett to make things all square.

Ilford began to overwhelm the Blues in the last ten minutes and the Wanderers were indebted to some heroic defending. Lawson flung himself to head away a stinging shot from Taylor and Westley cleared off the line when Grainger seemed certain to score. In the dying seconds it seemed that everything was lost when Grainger was put clean through with an open goal but he somehow shot wide.

Final Score: Ilford 3 Wycombe Wanderers 3

Wycombe Team: D Syrett, F Lawson, F Westley, G Truett, M Wicks, J Truett, L Worley, C Trott, P Bates, J Tomlin, F Smith.
Scorers: Truett 36 pen, Trott 40, 55

Ilford Team: P Gibbins, G Simmons, E Cross, C Elsworthy, A Whittall, H Dodkins, A Grainger, T Taylor, R Winch, H Butler, S Castle.
Scorers: Butler 3, 80, Whittall 50



Saturday 2nd March 1957
F.A. Amateur Cup Fourth Round Replay
Wycombe Wanderers v Ilford

At Loakes Park - Attendance: 15,500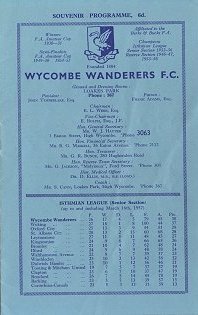 The build-up to the replay intensified with Ilford coach Arthur Banner claiming to have spotted the Wanderers weaknesses and danger man Albert Grainger deciding not to sign for Leyton Orient until his club's Amateur Cup was over. Wycombe coach Sid Cann was also confident, saying, ""All our lads are 100 per cent fit and, obviously, confident about their ability to pull it off tomorrow." There was also expectation of a record Loakes Park crowd, with 2,000 expected to travel from Ilford. The resulting crowd of 15,500 was just 350 short of the of record Loakes Park attendance of 15,850 for the Amateur Cup quarter-final against St Albans City in 1950. Wanderers, as in the first game at Ilford, played in red shirts, while Ilford played in white - both teams switching from their usual blue shirts due to a FA ruling that colour clashes in cup ties meant that both teams were required to change.

Perhaps predictably the replay was a dour, tense struggle but the Wanderers always looked the more dangerous and subsequently the more likely to reach the semi-finals. Ilford danger man Albert Grainger was superbly contained by Frank Westley although he found himself through on goal in the first ten minutes only to be denied by a last ditch tackle from Michael Wicks. Frank Smith then put Paul Bates in on goal but the forward chipped over both Gibbins and the bar. Understandably the players exhibited signs of nervousness and the first half finished goalless.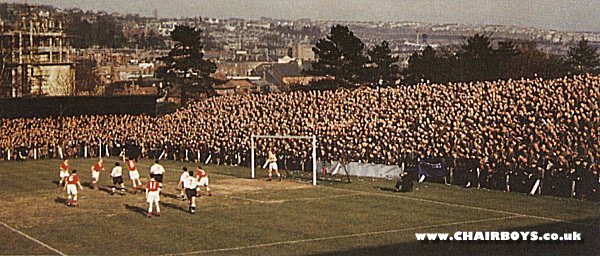 Seven minutes into the second half and deadlock was broken. Len Worley beat Cross and crossed for the unmarked Tomlin who feigned to shoot before chipping the ball in for Frank Smith to head home in the middle of the six-yard box. Syrett was on hand to deny both Castle and Grainger whilst Gibbins prevented Smith and Bates from adding a second before saving Tomlin's superb header. With twenty minutes remaining Smith's corner was flicked on by Bates and Trott headed past Gibbins to put the Wanderers two up. Wanderers pinned Ilford back into their half and Gibbins prevented Wycombe from a far more emphatic scoreline. The final whistle signaled Wanderers third Amateur Cup Semi-Final appearance in seven years.

Final Score: Wycombe Wanderers 2 Ilford 0

Wycombe Team: D Syrett, F Lawson, F Westley, G Truett, M Wicks, J Truett, L Worley, C Trott, P Bates, J Tomlin, F Smith.
Scorers: Smith 52, Trott 70

Ilford Team: P Gibbins, G Simmons, E Cross, C Elsworthy, A Whittall, H Dodkins, A Grainger, T Taylor, R Winch, H Butler, S Castle.



Saturday 16th March 1957
F.A. Amateur Cup Semi-Final
Wycombe Wanderers v Corinthian Casuals

At Highbury - Attendance: 28,197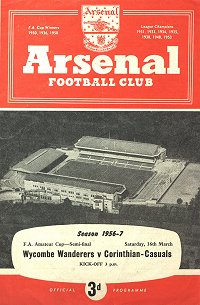 The semi-final paired the Blues with fellow Isthmian Leaguers Corinthian Casuals at Highbury. Tickets were 8/- and 10/- and 15,000 Chairboys made up a crowd of 28,197 who witnessed a semi-final which was described as "a great battle" by The Times, "a thrill-packed struggle" by The News Chronicle and "a blood-tingling fight against the odds" by the Bucks Free Press.

In an electric atmosphere the game began in disastrous style for the Wanderers as Corinthian Casuals outside-left Norman Kerruish scored from a corner in the first minute; goalkeeper Dennis Syrett landing awkwardly trying to stop the goal and having to play the remaining 89 minutes with his left shoulder burning with pain. He explained afterwards "I jumped up and knocked the ball into the goal, then someone whipped my feet away and I feel heavily on my shoulder."

Wanderers hit back almost immediately with 4 minutes gone, Paul Bates heading home a perfect cross from Len Worley for the equaliser. Bates was another of the Blues walking wounded - having played the entire game with blistered feet. Twenty minutes later Wycombe took the lead, Len Worley's long pass found Paul Bates who dribbled past the Casuals defence before hitting a superb left foot shot past Casuals Danish Goalkeeper Paul Ahm. Wycombe were in the ascendancy and were dominating the match, with Ahm saving point-blank from Cliff Trott, who injured his knee against Ilford and admitted afterwards, "I once moaned at Len [Worley] for playing when he wasn't 100 per cent fit and I wasn't sure that I should play even on Saturday morning. But I never felt a thing."


Out of the blue and against the run of play Casuals danger man Jack Laybourne equalised with a delicate chip over Syrett. Wanderers reacted positively again, Bates going close with an overhead kick and Smith being denied by another superb save from Ahm.

The second half started with Ahm making another fantastic save from Bates. Wanderers luck seemed to be out on the hour mark as Frank Westley clashed with Casuals Guy Shutterworth, injuring his knee and having to be carried off. Almost immediately Frank Smith dislocated his shoulder. Captain Westley, hearing of Smith's injury, returned to the game, limping out on the wing. Shuttleworth then smashed a shot against the crossbar before Wycombe grabbed the lead. Bates tricked his way past two defenders before crossing for Len Worley to head home. Casuals again hit the bar through Tracey before, with just five minutes to go, Worley, put through by Trott, produced a great finish to fire past Ahm and into the back of the net.

In the other semi-final Bishop Auckland beat Hayes 2-0 at St. James Park. Coach Sid Cann said, "I am very, very proud of them all - they played wonderfully. They won because they went on playing good football, even when only nine men were left." Meanwhile, Corinthian Casuals' goalscorer Jack Laybourne said, "They (Wycombe) are a grand team; every player's a wonderful fighter."

Final Score: Wycombe Wanderers 4 Corinthian Casuals 2

Wycombe Team: D Syrett, F Lawson, F Westley, G Truett, M Wicks, J Truett, L Worley, C Trott, P Bates, J Tomlin, F Smith.
Scorers: Bates 4, 25, Worley 70, 85

Casuals Team: P Ahm, J Buchanan, D W Newton, G Shuttleworth, R Cowan, R Vowels, F Palmer, J Laybourne, M Tracey, M Willett, N Kerruish.
Scorers: Kerruish 1, Laybourne 35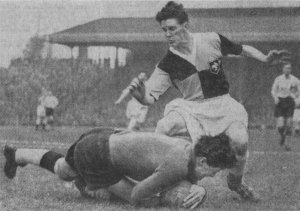 Click here for images of press preview and matchday programme
Click here for review of the Final versus Bishop Auckland at Wembley